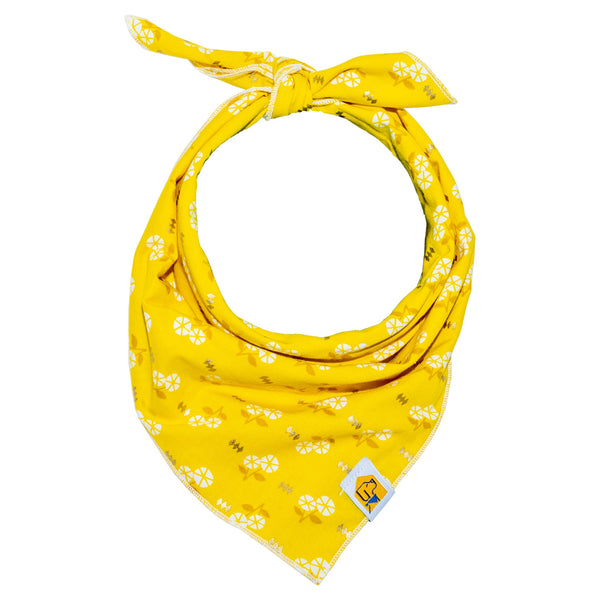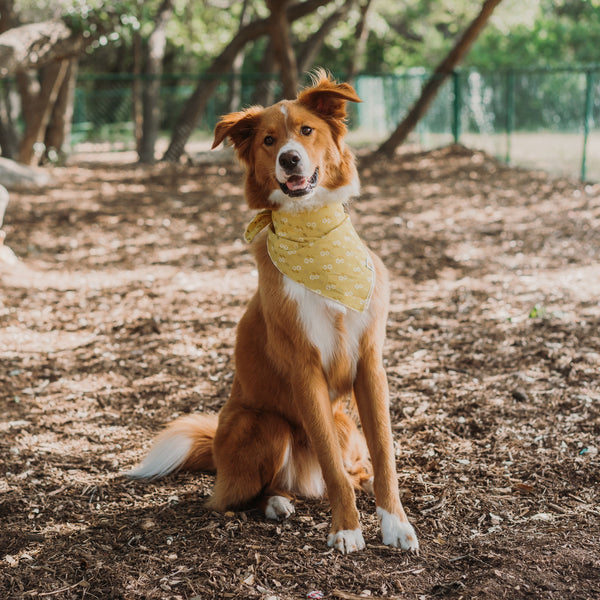 Bright yellow bandana with monochromatic daisy bunches and metallic details sprinkled across this bandana perfect for a sunshine filled day! A splash of sunshine added to your pup's wardrobe.
Handmade with love in Austin, Texas, all Home With Hound dog bandanas com in three sizes: Small, Medium, and Large.
Size Small is a 15 by 15 inch square tie-on bandana. This size suits pups 20 lbs and under, such as Maltese, Miniature Poodles, Daschunds, Pomeranian, Toy Aussies, and most other teacup and toy breeds.
Size Medium is a 20 by 20 inch square tie-on bandana. Suited best for dogs up to 40lbs. This bandana will fit Corgis, Mini Aussies, Cocker Spaniels, Basenjis, Beagles, Schnauzers and more. Does your dog weigh more than 40lbs but have a thin neck? This is the size for you.
Size Large is a 25 by 25 inch square tie-on bandana. This is best for your "big boys" and will fit dos anywhere from 50lbs to 100lbs. From large Pitties, Golden Retrievers, Labradors, to Mastiffs and more, this bandana will fit your chunky boys and strong gals.
Concerned that your dog might be in between sizes? It is recommended to always size up. The cotton material of the dog bandanas can be easily folded if you find there is excess fabric, but it cannot be stretched.
Care: Wash on low or gentle and lay flat to dry. Ironing is best to get rid of any wrinkles, but the pups never seem to mind them.