Home With Hound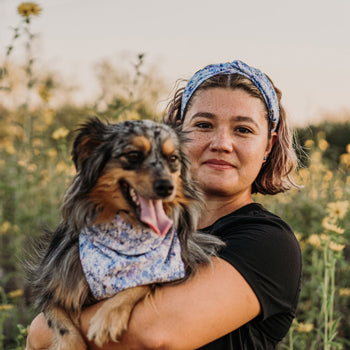 Never without her dogs-Gabriella Santos and her two Aussies, Lindy & Samba, are always on the hunt for unique and classic fabric patterns for Home With Hound's handmade dog bandanas.
Home With Hound was established in 2018 by Gabriella Santos. Originally inspired by her then new puppy, a miniature Australian Shepherd Lindy, a longtime hobby of photography, and a favorite creative pastime, knitting, Home With Hound's first line of products were hand-knit dog sweaters and scarves. These creative and thoughtful products were well-loved, but after relocating to Austin Texas in 2018, it became clear they were not the ideal product for Texas customers and their dogs.

Nevertheless, after adding a Standard Australian Shepherd (Samba) to the family pack, Gabriella shifted gears and switched gears to focus on handmade tie-on dog bandanas as the main focus of products. Now, in 2023, Home With Hound's main attraction are their Matching Sets, a bandana for your pup and a headband for you! The cutest way to show off your Dog Mom vibes without feeling gaudy. They are the perfect to subtly match your dog, or not, the headbands are perfect to wear on their own.

A goal for Gabriella and the Home With Hound gang in 2023 includes adding new and fun products to the shop that are perfect for any dog lover, and to continue to build a wide catalog of bandana patterns perfect for any occasion.

I'd love to show you more, follow my journey