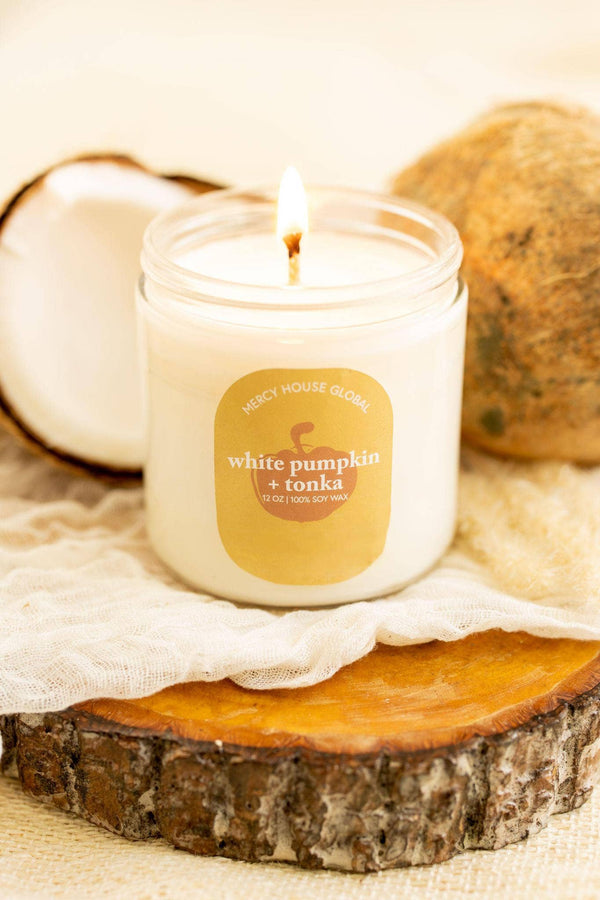 DESCRIPTION
Putting a sweet twist on a classic pumpkin scent, the White Pumpkin + Tonka Candle offers a sophisticated aroma of creamy coconut and white pumpkin blended with caramel and tonka bean. Your Fall home has never smelled better!
DETAILS
+ Made by artisans who are refugees living in the USA
+ 100% Soy Wax
+ 12 oz
+ Scent: White Pumpkin + Tonka
+ Notes: Coconut, pumpkin, caramel, and tonka bean
+ Ingredients: Soy Wax + dulce pumpkin essential oil
+ Disclaimer: After burning a soy wax candle, rough bumpy tops may appear due to the organic nature of the wax. Hot soy wax cools and solidifies at an inconsistent rate, however, this is natural and to be expected.
ARTISAN DETAILS
The first thing you notice about Diaa is her smile and laugh! Diaa is one of our expert candle makers & this order provided Diaa with 24 hours of dignified work.