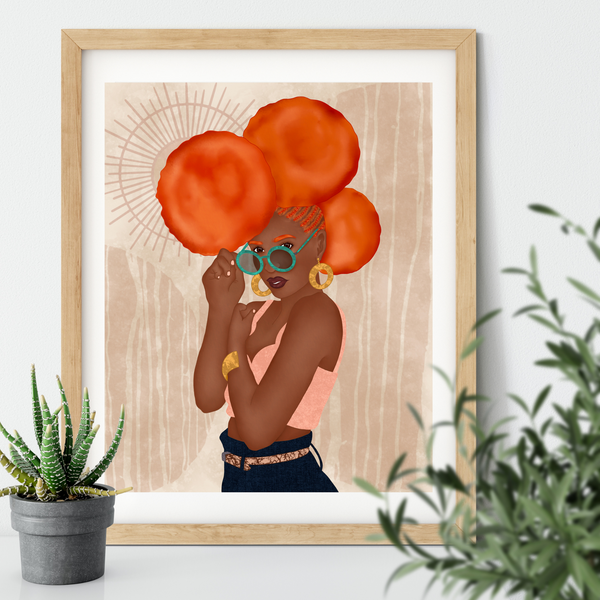 Elevate your space with this vibrant woman against a neutral background
★ Item Details ★
• Print Sizes: 8" x 10" or 11" x 14"
• Printed on premium fine art paper.
• Protected with a backing board to prevent your print from bending during shipping and comes in a clear plastic sleeve.Frame not included
• All mockup art print examples are in matted frames.
★ Social Links ★
INSTAGRAM: instagram.com/kiiingcreations
FACEBOOK: facebook.com/kiiingcreations
PINTEREST: pinterest.com/kiiingcreations
BLOG: kiiingcreations.com/blogs/artful-reading
𝐀𝐧𝐲 𝐮𝐧𝐚𝐮𝐭𝐡𝐨𝐫𝐢𝐳𝐞𝐝 𝐝𝐮𝐩𝐥𝐢𝐜𝐚𝐭𝐢𝐨𝐧, 𝐫𝐞𝐩𝐫𝐢𝐧𝐭 𝐨𝐫 𝐮𝐬𝐚𝐠𝐞 𝐨𝐟 𝐭𝐡𝐢𝐬 𝐢𝐦𝐚𝐠𝐞 𝐢𝐬 𝐬𝐭𝐫𝐢𝐜𝐭𝐥𝐲 𝐩𝐫𝐨𝐡𝐢𝐛𝐢𝐭𝐞𝐝. 𝐀𝐥𝐥 𝐚𝐫𝐭𝐰𝐨𝐫𝐤𝐬 𝐚𝐫𝐞 𝐥𝐞𝐠𝐚𝐥𝐥𝐲 𝐩𝐫𝐨𝐭𝐞𝐜𝐭𝐞𝐝 𝐮𝐧𝐝𝐞𝐫 𝐂𝐨𝐩𝐲𝐫𝐢𝐠𝐡𝐭 𝐥𝐚𝐰 𝐚𝐧𝐝 𝐰𝐢𝐥𝐥 𝐛𝐞 𝐩𝐫𝐨𝐬𝐞𝐜𝐮𝐭𝐞𝐝. 𝐍𝐨𝐧𝐞 𝐨𝐟 𝐭𝐡𝐞 𝐝𝐞𝐬𝐢𝐠𝐧𝐬 𝐦𝐚𝐲 𝐛𝐞 𝐫𝐞𝐩𝐫𝐨𝐝𝐮𝐜𝐞𝐝, 𝐫𝐞𝐬𝐨𝐥𝐝 𝐨𝐫 𝐮𝐬𝐞𝐝 𝐰𝐢𝐭𝐡𝐨𝐮𝐭 𝐩𝐫𝐨𝐩𝐞𝐫 𝐚𝐧𝐝 𝐩𝐫𝐢𝐨𝐫 𝐰𝐫𝐢𝐭𝐭𝐞𝐧 𝐜𝐨𝐧𝐬𝐞𝐧𝐭 𝐟𝐫𝐨𝐦 𝐭𝐡𝐞 𝐚𝐫𝐭𝐢𝐬𝐭, 𝐀𝐬𝐡𝐥𝐞𝐚 𝐊𝐢𝐢𝐢𝐧𝐠.
𝐂𝐨𝐩𝐲𝐫𝐢𝐠𝐡𝐭 © 𝟐𝟎𝟏𝟖-𝟐𝟎𝟐𝟏 𝐊𝐢𝐢𝐢𝐧𝐠 𝐂𝐫𝐞𝐚𝐭𝐢𝐨𝐧𝐬. 𝐀𝐥𝐥 𝐑𝐢𝐠𝐡𝐭𝐬 𝐑𝐞𝐬𝐞𝐫𝐯𝐞𝐝.